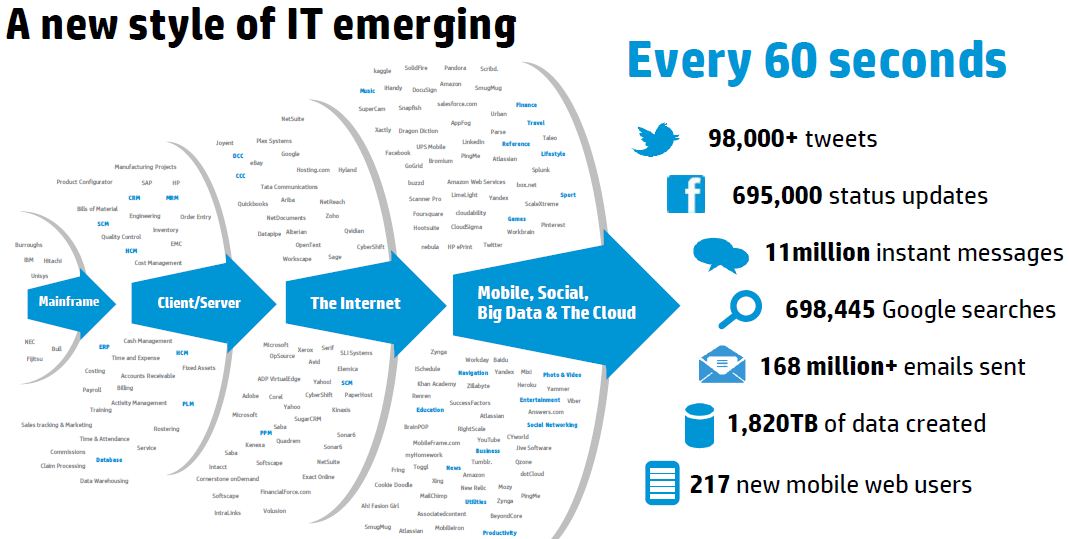 Big Data analytics allows organisations to make and execute better business decisions in very little time. Big Data and analytics tools allow users to work with data without going through complicated technical steps. This kind of abstraction allows data to be mined for specific purposes.
Improve the quality of services
Big Data analytics leads to generation of real business value by combining analysis, data and processing. The ability to include more data, run deeper analysis on it and deliver faster answers has the potential to improve services. Big Data allows ever-narrower segmentation of customers and, therefore, much more precisely tailored products or services.
Big Data analytics helps organisations capitalise on a wider array of new data sources, capture data in flight, analyse all the data instead of sample subsets, apply more sophisticated analytics to it and get answers in minutes that formerly took hours or days.
Deliver relevant, focussed customer communications
Mobile technologies tracks can now track where customers are at any point of time, if they're surfing mobile websites and what they're looking at or buying. Marketers can now serve customised messaging to their customers.
They can also inform just a sample of people who responded to an ad in the past or run test strategies on a small sample.
Organisations are presently outfitting the force of Big Data innovations to create bits of knowledge and make more quick witted, speedier business choices. What's more, on the off chance that they are attempting to comprehend the potential for Big Data or believe it's not appropriate to their business issues, they can be guaranteed contenders are seizing upon the open door and separating themselves regarding items, arrangements, and time-to-experiences.
Big Data Analytics Consulting Focus:
Google Cloud Platform:  BigQuery, Bigtable, Cloud Dataproc, Compute Engine, Dataflow, Datalabs, Datastore, Pub/Sub, Storage
Salesforce Platform:  App Cloud (Force.com/Heroku Enterprise), Community Cloud/Chatter, IOT Cloud/Thunder, Marketing Cloud/Pardot, Sales Cloud, Service Cloud, and Wave Analytics
Data Insights/Visualization:  Alteryx, Google Cloud Datalabs, Qlik, Salesforce.com Wave Analytics, Tableau
Predictive Tools:  Alteryx, R
Where is the gap?
Data is more than merely figures in a database. Data in the form of text, audio and video files can deliver valuable insights when analysed with the right tools. Much of this happens using natural language processing tools, which are vital to text mining, sentiment analysis, clinical language and name entity recognition efforts. As Big Data analytics tools continue to mature, more and more organisations are realising the competitive advantage of being a data-driven enterprise.
Social media sites have identified opportunities to generate revenue from the data they collect by selling ads based on an individual user's interests. This lets companies target specific sets of individuals that fit an ideal client or prospect profile. The breakthrough technology of our time is undeniably Big Data and building a data science and analytics capability is imperative for every enterprise.
A successful Big Data initiative, then, can require a significant cultural transformation in an organisation. In addition to building the right infrastructure, recruiting the right talent ranks among the most important investments an organisation can make in its Big Data initiative. Having the right people in place will ensure that the right questions are asked - and that the right insights are extracted from the data that's available. Data professionals are in short supply and are being quickly snapped up by top firms. At Radium Communications we have a strong network of freelance data science and analytics specialists.
Alongside the Big Data patterns, Cloud gives a convincing stage to investigation. The Cloud offers a few preferences as far as on-interest estimating, flexibility to bolster flighty blasting workloads, and quick time-to-quality. Sending Big Data advancements on Google Cloud Platform gives an unparalleled chance to drastically enhance the best approach to arrange, get to, break down, and convey data. Google Cloud Platform is an arrangement of secluded cloud-based administrations that permit you to make anything from straightforward sites to complex applications.
At Radium Communications, we have put resources into giving the direction you have to set out on this transformational Google Cloud Platform venture. As confirmed Google Cloud Platform designers, affirmed huge information administrations supplier, and approved preparing accomplice, we have the learning and field mastery in conveying Google Cloud Platform administrations, encouraging specialised courses, and instructing engineers of all aptitude sets.